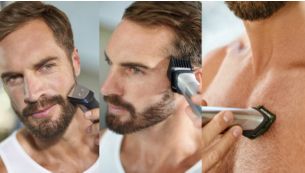 Trim and style your face, head and body with 23 pieces
23 pieces for all your trimming needs: a metal trimmer, a foil shaver, a detail metal trimmer, a nose and ear trimmer, an extra-wide hair trimmer, 6 hair trimming guards, 3 beard trimming guards, 2 stubble trimming guards, 2 body trimming guards, an eyebrow trimming guard, a storage bag and a cleaning brush.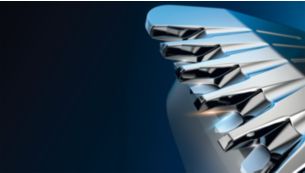 Maximum precision with 2x more blades
This all-in-one hair trimmer features advanced DualCut Technology for maximum precision. It comes with double blades, and is designed to stay as sharp as day 1.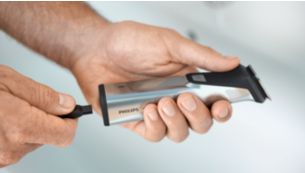 Powerful Lithium-ion battery delivers 5hrs of runtime
Our most powerful Lithium-ion rechargeable battery delivers up to 5 hours of runtime per charge.